North Carolina Private Bartenders

Contact us today to list your business!


BarBop

Bartenders, Chocolate Fountains, Espresso Bars, and Party Rentals.

Not just bartenders with limes and bottle openers. Our mixologists are BarBop trained and we use the latest in bar equipment. From traditional weddings to festive fundraisers, our unique inventory of bar supplies and experienced staff, will ensure your guests are impressed.

Signature Cocktail Design

Have our mixology team create a signature cocktail for your event. Custom cocktail design service includes two dedicated BarBop designers to create the perfect blend of beauty and taste. See our website to view our drink options.

Phone: 1.800.260.6039

WebSite: www.BarBop.com

Serving Brunswick and New Hanover County

Four Blondes offers Bartending and Cocktail Service for your Private Party or Event. We have a number of packages and services designed to accomadate any size party. Our ALL "Blonde" Staff will dress in your choice of, Naughty, Nice or Formal Uniform. Our bartenders are well-trained professionals with sweet personalities and gorgeous smiles. Let us help make your next party sizzle!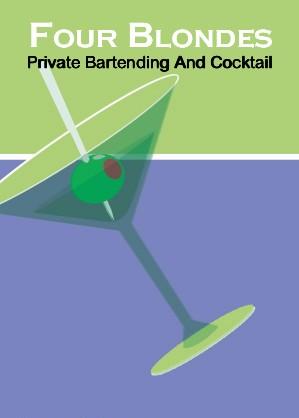 Contact:  Lelia Tighe

Phone:  (910) 523-0325