Georgia Private Bartenders

Contact us today to list your business!


BarBop

Bartenders, Chocolate Fountains, Espresso Bars, and Party Rentals.

Not just bartenders with limes and bottle openers. Our mixologists are BarBop trained and we use the latest in bar equipment. From traditional weddings to festive fundraisers, our unique inventory of bar supplies and experienced staff, will ensure your guests are impressed.

Signature Cocktail Design

Have our mixology team create a signature cocktail for your event. Custom cocktail design service includes two dedicated BarBop designers to create the perfect blend of beauty and taste. See our website to view our drink options.

Phone: 1.800.260.6039

WebSite: www.BarBop.com

Private Cocktails is a premier professional bartending service, in Metro Atlanta, which allows you to become a guest at your own event!  We take pride in being organized, proficient and discrete. Every bartender at Private Cocktails is friendly, attractive, professionally trained and dedicated to providing you with the highest level of bartending services possible.

We will:

Help you plan every aspect of your bar service, including bar inventory and shopping list

Provide affordable packages that will include bar essentials such as tools, mixers, napkins, straws, garnishes (olives, cherries, limes)

Provide certified bartenders (cocktails servers additional)

Arrive at your event one hour before your guests to set-up, and clean up Provide a fun, professional, enthusiastic atmosphere through out (free smiles all night)

Mix incredibly tasty cocktails that you and your guest will relish

Provide a local listing of taxi cab services available should anyone need a ride home (fare not included)

We will not:

Provide the alcohol for your event.  However, we will be more than happy to assist you with your shopping list

Serve alcoholic beverages to any persons under the age of 21

Be responsible for the irresponsible consumption of alcohol.  The host will be required to sign a legal form before the event.

Leave you unsatisfied

Our goal at Private Cocktails, a private professional bartending service, is not only to provide our clients with exceptional bartending services that exceed our clients expectations, but to ensure a piece of mind as well as an event that you will never forget.  We want you to relax and enjoy your event knowing that all the details are taken care of. 

Our staff consists of quality, knowledgeable, certified bartenders.  From beer and wine to specialty mixes and flavored martinis, Private Cocktails has the tools and knowledge to mix the perfect drink everytime.

Our commitment is to ensure a stress free event that will dazzle your guests!  You provide the guests, let Private Cocktails do the rest!


Events:

Bachelor / Bachelorette Parties

Corporate / Company Events

Weddings / Rehearsal Dinners

private professional bartending services

Serving Fulton, Gwinnette, Clayton, DeKalb, Cobb, Henry and Fayette Counties

For more information contact:

Phone:  (404) 849-1309

Counties Serving: Barrow, Bartow, Carroll, Cherokee, Clayton, Cobb, Coweta, Dekalb, Douglas, Fayette, Forsyth, Fulton, Gwinnett, Hall, Henry, Newton, Paulding, Rockdale, Spalding, Walton

Premium Cocktails - Atlanta employs only Georgia State certified bartenders and experienced barbacks. Premium Coktails - Atlanta is committed to providing high quality beverage service and always adheres to the highest standards of bartending industry.

Whether it's a small or large party, corporate or intimate dinner, we will work with you to execute a successful event.

Premium Cocktails - Atlanta bartenders are always out-going, energetic and fun individuals. We will ensure your guest are satisfied...down to the last drop!

Bartenders are Georgia State certified as professional mixologists with extensive knowledge with multiple brands of liquors, brandies, and liqueurs. Bartenders understand and adhere to the strictest standard when it comes to barroom sanitation, station step-up and state rules and regulations.

Contact Us today.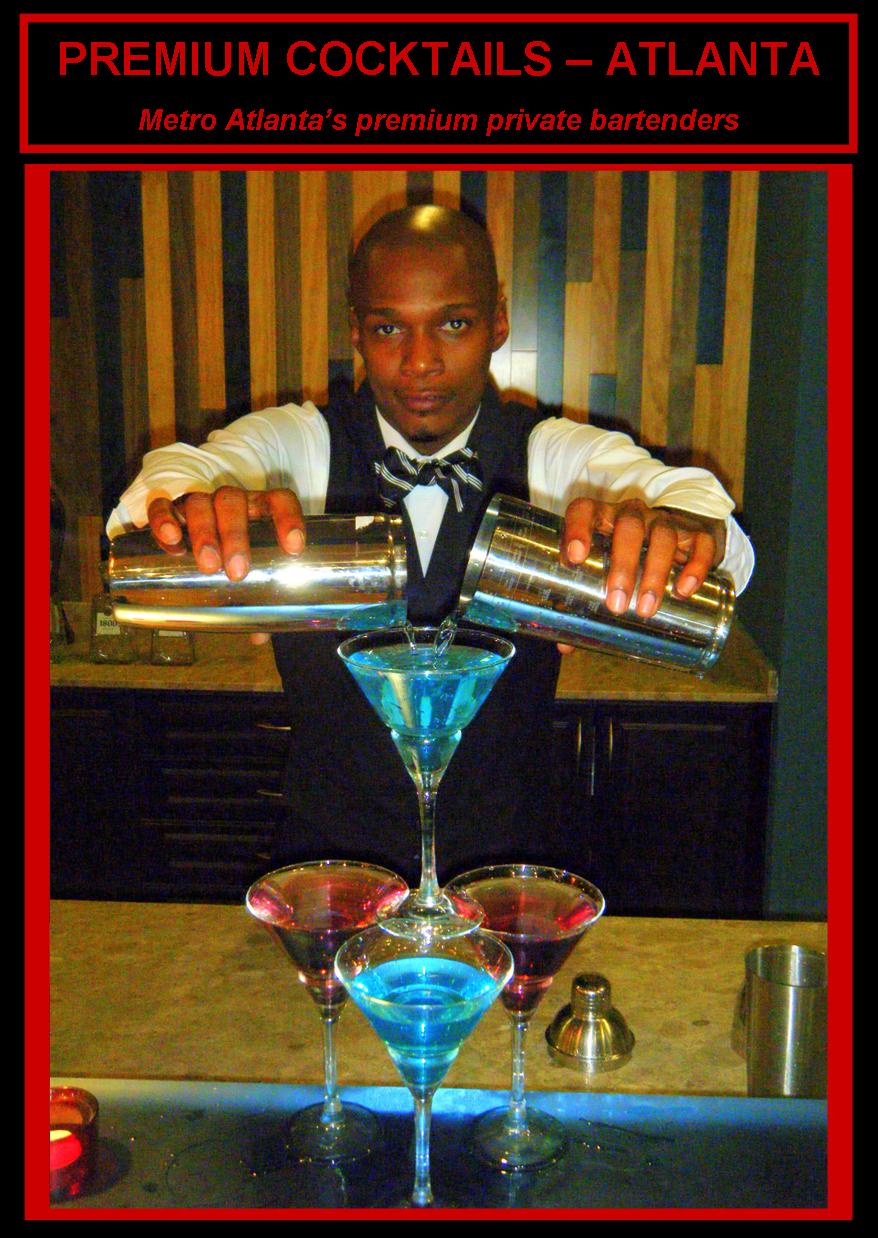 For more information contact:

Sebashtain Newsome